Everything you wanted to know about Dry Needling and were too afraid to ask!
I am now a qualified Myotherapist which means that I have a few new techniques in my "kit bag" to help you through your pain and getting you back on track.
One of those powerful therapies is Myofascial Dry Needling.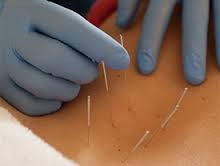 DRY NEEDLING IN ACTION
What is Dry Needling?….Does it work?….Does it hurt? I am often asked about the "mysteries" of Myofascial Dry Needling and so here's the skinny.
In short it is a highly effective therapy for the treatment of many muscle pathologies.
Dry Needling causes a micro injury stimulating the nervous system to release neurochemicals, such as Endorphins and Corticosteroids; the immune system brings white blood cells to the injured area and red blood cells carrying oxygen and nutrients.
IS DRY NEEDLING SIMILAR TO ACUPUNCTURE?
There are many similarities, however, it is based on Western medical principles and research.
IS IT PAINFUL?
Most patients do not feel the insertion of the needle. There may be a very brief painful response.
ARE THE NEEDLES STERILE?
Yes. There are many different types of needles available of varying qualities which can effect your experience. I only use the very best, Australian made (SINGLE USE) needles.
WHAT ARE THE SIDE EFFECTS?
Mild soreness is a common after the procedure.
WHY IS MY DOCTOR NOT FAMILIAR WITH DRY NEEDLING?
In Australia, dry needling is a relatively new method for treating myofascial pain and not everyone is aware of this modality.